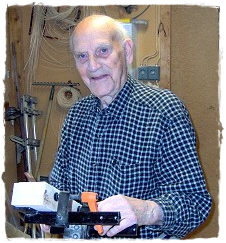 Sjur Mørkve, 1917-2007, was born in Voss, and started carving sculptures already as a young boy. He often visited his neighbor, a well known woodcarver in the valley, Styrk Hirth. He learnt much about ornamental carving in the Norwegian "dragon style" from him. And there he also got his first real carving tools, and guidance in how to carve nutcrackers, among other things.
During the days he herded the goats, and when he had time to spare, he liked to carve. He had living models all around him, and it was here he carved his first goat sculpture, 12 years old. One of the motives which he continued carving all his life.
From 1953-55 he went to art school to learn more about classical ornamental carving. After graduating he started his own workshop, and since then woodcarving was his profession. When he first started, nutcrackers was his main product. Gradually other things became more popular, like the traditional pack-horses and the goats. Through the years many people got to know his work, and at the end of his career, his pieces was more popular than ever.